Eucerin Atopi­Con­trol

Eczema is par­tic­u­lar­ly hard on chil­dren. This is part­ly because they strug­gle even more than adults with itch­i­ness. And scratch­ing just makes things worse. Par­ents are often at their wits' end and don't know how best to help.

Tough times need big heroes. Or, in our case, a cute lit­tle hero: a cud­dly toy called Anton. He is an upbeat mon­key who we bring to life with lov­ing­ly ani­mat­ed videos. Anton dis­tracts, edu­cates and enter­tains the kids – and is already a con­stant com­pan­ion for count­less chil­dren with eczema.

Anton has found a place in thou­sands of children's rooms and is help­ing to make life with eczema a lit­tle eas­i­er. He embod­ies what Eucerin has always stood for: effec­tive relief for med­ical skin con­di­tions. As a result of his con­sid­er­able suc­cess in Ger­many, Anton can now be found all over Europe.
Mon­key busi­ness with Anton
The best rem­e­dy for acute itch­i­ness: dis­trac­tion! Who could pos­si­bly con­cen­trate on itchy skin when hear­ing the tale of Princess Gor­gonzo­la and Prince Mozzarelli?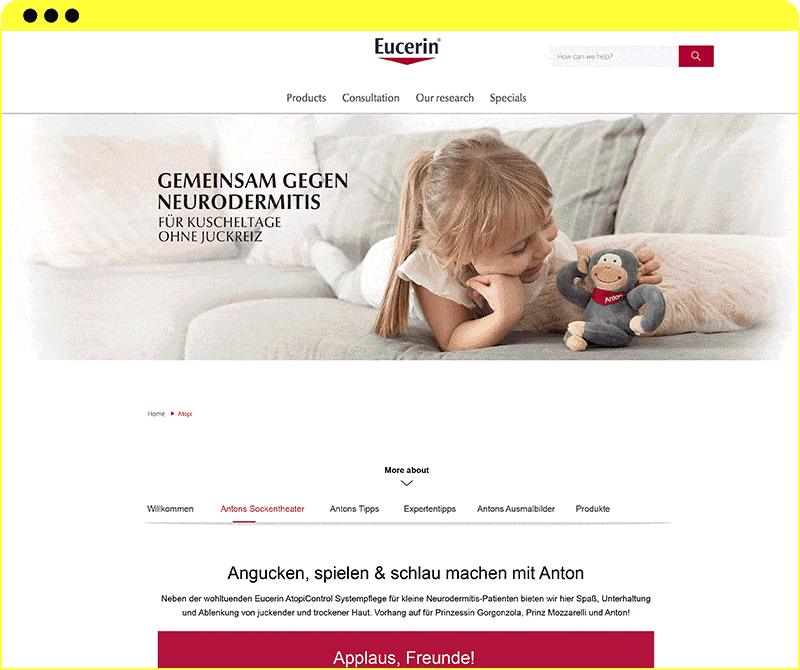 Wel­come to Anton's world
An intu­itive user expe­ri­ence, inter­ac­tive mod­ules and child-friend­ly texts: the focus was on the young tar­get group dur­ing the devel­op­ment and imple­men­ta­tion of Anton's world.